M66V Mobile Air Filtration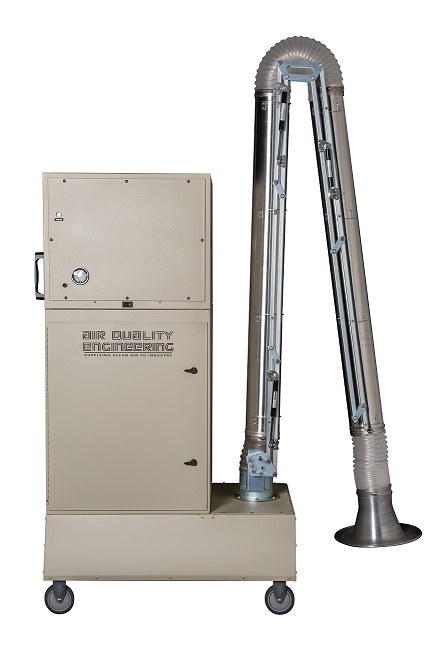 The model M66V is a self-contained media air cleaning system designed for use in source capture applications where mobility is desired. In Extrusion and Injection molding applications this system is a good choice to roll in place where machine maintenance is being performed so smoke & fumes can be captured at the point where work is being done. The 13 ft moveable arm can be easily swung into position for source capture creating a safer work environment. The M66V can also be used in parts torching and welding operations. 
 The M66 can be ordered in a three-stage filtration configuration which will effectively remove a broad range of airborne contaminants including fine dust, smoke, soot, vapors, mist, VOC's and more at a rate of up to 2000 CFM. 
SPECIFICATIONS
Model
M66V
Inlet Plenum
6"
System air flow rate, SCFM
2000
Applications
Moderate smoke, fumes and odor removal at the source
Filter details
24" x 24" x 4" Merv 8 Pre-filter
24" x 24" x 22" Merv 14 (95%) main bag filter
Optional Upgrades

45 pound Activated Carbon module/p>

Merv 17 (99.99%) HEPA main filter

Mobile on castor wheels for source capture use
Operating Voltage

Includes 2000 cfm blower – choose one of the following system operating voltages

120VAC, 1 ph, 13.6 amps

208 – 240 VAC, 1 ph, 6.8 amps

440 – 480 VAC, 3 ph, 4.3 amps

Dimensions
41"L x 31"W x 73"H
Weight
368 pounds
Catalog#
ATS1113
Additional
Moveable arm can be subtracted if not required