Accuthermal Fluidized Temperature Bath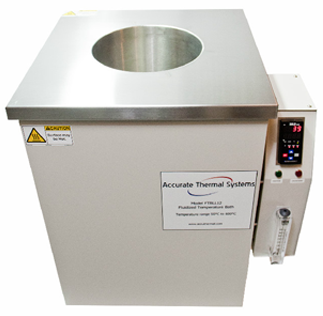 Accurate Thermal Systems manufactures Fluidized temperature baths to meet a wide range of applications where a stable and uniform temperature environment is required. They have been used for decades to clean extrusion tooling and all other types of hardware, shape set medical devices, calibration, testing various sensors and systems, heat treatment of metals as well as heating of reactors, coils, flasks and containers. Fluidized Temperature Baths typically provide faster processing times than ovens and furnaces and are much more thermally stable and uniform. Fast heat up of immersed parts and objects is another major advantage. Fluidized baths are safer to operate than molten salt baths while immersed objects come out clean and dry with no material to remove.
Click here to learn more about Fluidized Temperature Baths.
Typical applications for Fluidized Temperature Baths
Parts, Tooling, Machinery and Hardware Cleaning – removes paint, oil, grease, epoxy, plastic, varnish, insulation, rubber, adhesives and much more.
Models FTBSL6, FTBLL12E, FTBLL12, FTBLL12W, FTBLL26, FTBLL27 & FTBLL47
Heat Treatment of Medical Devices, Metals and Materials – annealing, tempering, shape setting, high temperature quenching and other operations that require fast and uniform heating. Models FTBSL6, FTBSL15 and FTBSL25 depending on specific heat load.
Calibration, Testing & Reactor Heating – calibration of temperature sensors, devices and systems, thermal failure mode analysis testing & heating of coils and vessels for endothermic and exothermic reactions. Any model depending on volume required and heat load.
Why use our Fluidized Temperature Baths?
Proven and reliable technology that has been in use for more than 50 years. They are manufactured in the USA from high quality materials and components. Top covers and inner tanks are made of 304 stainless steel with optional 316 grade for corrosive applications. The fan cooled control cabinet houses both temperature and air control functions. All of our systems include fully automatic air control and an RS485 interface with downloadable Windows software (see download link below) for completely automatic turn-key operation.
Are you shopping around for a Fluidized Bath to meet your application? Make sure those that you consider offer the same current technology, features and specifications that all of our models include –
Fully automatic Fluidizing Air Control
Integrated & advanced 4 zone PID temperature control
Independent over-temperature protection
Innovative bath lid designed to minimize media and heat loss
Well insulated for reliable and safe operation
Seamless stainless steel top cover and tank for long life and reliability
Over 35 years of combined industry experience for post sales and application support
RS485 interface with included Windows PC software for remote control and scheduling
Manufactured in the USA to be affordable with fast delivery lead times
A Fluidized Bath's liquid like properties provide fast heat transfer to immersed objects for immediate heating and the thermal performance desired from a heat source.
Large working volume and heat capacity are good for heating both large and small objects. Fluidized Temperature Baths don't require consumables or chemicals to operate, are safer than salt baths and provide better temperature stability and uniformity than ovens.